After the much-talked-about Solidarity Losar and Kalon Tripa's visit to North America, two discussions that are still making rounds in most Tibetan gatherings in the New York City area are: indefinite hunger strike at the UN and Kalon Tripa's talk at Armenian Church, New York City. For discussion on the indefinite hunger strike, you can read my
earlier piece here
. In this piece, I made an attempt to briefly analyze the key elements of Kalon Tripa's talk at New York City.
Coming straight to the point, Kalon Tripa touched and moved the general masses with his eloquent talk. However, did the talk lack the substance of an elected leader as few observers say?
Undoubtedly, general Tibetan populations love Kalon Tripa. He received several round of applause for his tit-bits on Dharamsala bureaucracy, Washington DC and Europe visit, self-immolations, and his personal experiences as Kalon Tripa, among others. However, did Kalon Tripa share anything new that Tibetans did not read or hear from the print, media, or friends? This question is for you to think and discuss. If you are interested in reading my analysis, scroll down to the next few paragraphs.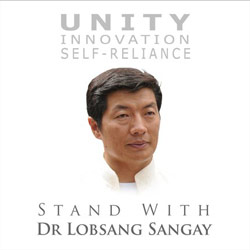 From my assessment of the talk, Kalon Tripa failed to discourse anything substantial on or about his administration policies. Being the United States his home ground, this talk at NYC could have been a perfect venue and time for announcing (or detailing) his new or established policies – policies that are grounded on his three core principles: Unity, Self-Reliance, and Innovation. Tibetans might have clapped and praised more if they could see what they expected of Kalon Tripa from his election promises.
Responding to one of the most important and sensitive question on Tapey's exclusion on the list of self-immolators read out at Bodh Gaya, it was clear Kalon Tripa was disturbed by this question. He explained the very inclusion of Tapey's name in the "Ex Cetera" (ལ་སོགས་པ།) of the read-out statement.
For your information, generally, this is how "Ex Cetera" works in an official document. The general use of this word is to save space and time from the long list of things to itemize. However, this word is not used when the list is not long (such as the name of self-immolators in Tibet). In government documents and statements, this word is occasionally used. However, when used, it is used as a "safety net" i.e., to make sure you don't miss someone or something you don't know or you are not aware of. This word also comes handy when responding to mediaperson to defend the inclusion of someone or something (that's what Kalon Tripa did with Tapey's name). I will leave up to you to think and discuss more and wide on this inclusion vs. exclusion dilemma.

In addition, the concluding remark from Kalon Tripa to this question was somewhat unexpected as well as disheartening. He stated that he has no intention of wasting his remaining tenure as Kalon Tripa in addressing these criticisms. At first hearing, this may sound like a good response but does it also mean he do not see the need of explanations for which every Tibetan has a right to ask and to know? Again, for you to think deep and discuss.
Finally, Kalon Tripa may have to rethink his insensitive approach towards China in public talks or discourses. His tenure as Kalon Tripa may be primarily assessed on how well he brings China on the table to talk or negotiate (an expectation he raised high with his past Tibetan-Chinese conferences, his China visit, and his credentials as a law graduate).
All things said, if I am asked to describe Kalon Tripa's talk in two sentences, it may read like this:
1.
Kalon Tripa talked for Tibetans and not for Tibet in general.
2.
Kalon Tripa succeeded in speaking what general public want to hear.
Note: Kalon Tripa's talk at New York City can be watched below:
VIDEO ONE OF THREE
VIDEO TWO OF THREE
VIDEO THREE OF THREE
Q&A